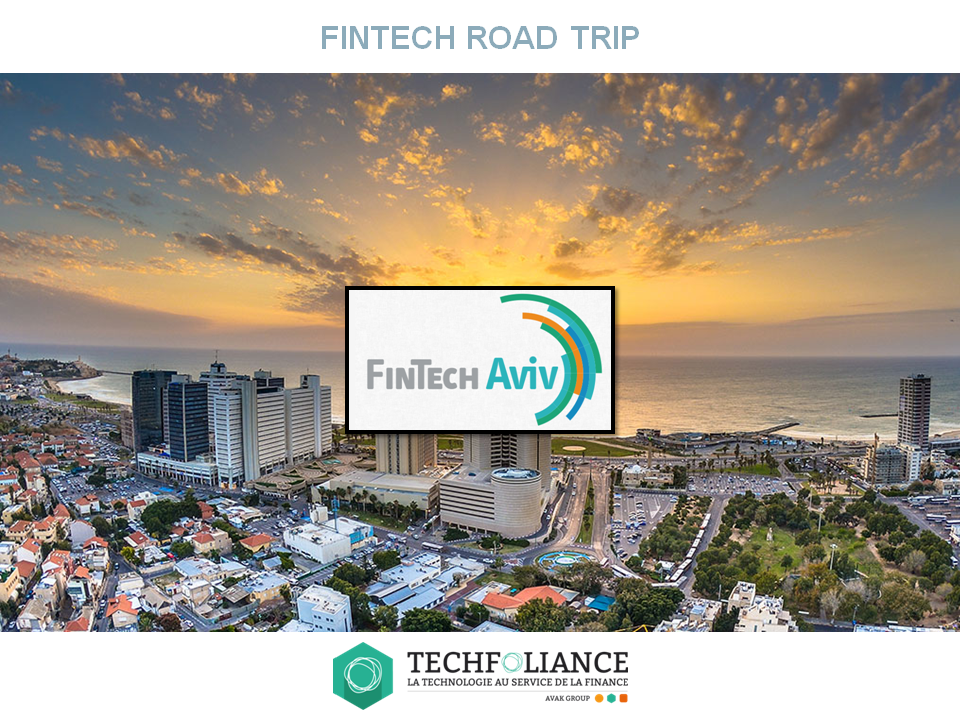 Techfoliance is back on the road to meet the Israeli Fintech community. We meet local experts and entrepreneurs to highlight emerging trends in the sector. Next stop: Tel-Aviv.
Many question marks remain regarding the ideation of seamless banking innovation. We decided to go and meet Fintech influencers and experts from Fintech-Aviv, the biggest community in Israel, to know more about the future of banking.
[divider] INTERVIEW [/divider]
XAVIER
FinTech innovations have led to a digital revolution which leads the path to both challenges and opportunities for traditional banking institutions.
How do you foresee the upcoming steps and what will be the next trends we will see appearing in banking?
NIR NETZER
We see many solutions – that were originally developed in order to disrupt banks – currently aligning with the banking industry. For example, many blockchain solutions are now here to stay, in spite of the uncertainty of this environment and the skepticism triggered when virtual coins first surfaced a few years ago. Why? Because banks are THE 'early adopters' and biggest blockchain researchers in the eco-system. So I would say that, in the near and mid-range of Future of Banking, we will see more applications based on blockchain. In addition, we will observe an improved deployment of more features such as Robo-Advisors, true NLP based chatbots and better customer engagement tools. As for the backend, we are witnessing 'the big data revolution', as banks are adopting big data and machine learning solutions and will (must) soon be leaving their archaic Legacy Systems behind.
XAVIER
Do you think that banks will keep on providing us the same services as they do today? Or maybe that some of the traditional banking features will no longer exist under the mandate of banks?
TAL SHARON
There is clearly a big trend, specifically on two verticals. Firsty, many off-banking alternatives in the money transfer industry have appeared over the past years, more cost effective and easier to use. Secondly, there is an operational shift among trading platforms and investments in Capital Markets. They can now be executed with methods that demonstrate higher yields. But it's just a matter of time until millennials start trusting new and trendy trading apps, leaving their parents to deal with banks and traditional financial institutions. The same trend applies for lending. Many alternative solutions such as P2P lending platforms and smart lending engines are starting to take over. And they have the capacity to replace traditional banks loans.
XAVIER
Ok, you are sharing your view about the near future, but how do you see the end of it? How will banking look like in 20-30 years from today?
NIR NETZER
Mobile first, that's the key. We are not sure yet what kind of futuristic mobile device our grandchildren will carry, but we can assume that it will probably allow them to execute any daily action -a sole device, one source of truth. As for banking, we are talking about a seamless, branchless, employee-less and – needless to say – paperless banking industry that will rely on many complimentary features that will serve the end client in a more holistic way – Savings, Investments, Wire Transfers, Digital Checks, Insurance, Pension, Mortgages and Capital Markets will be part of the same game, backed by deep data systems holding everything together. The Bank of the Future will have only IT people, that will keep on developing and implementing features for the benefit of the end client.
XAVIER
What about security? You mentioned one source of truth, isn't it dangerous?
TAL SHARON
Definitely, but this is not a risk that can't be handled; especially if we are talking on Blockchain-based systems. We see current Cyber developments that look like they belong to the future – for example gesture analysis solutions ensuring that the user is authorized to use the device and verifying ownership according to the way he handles his device – such as touch intensity, time it takes for a common command to be executed, and more. We see also many blockchain security apps and smart devices developed to protect our mobile phones as they constitute an entry point for hackers and pose a threat to the banking systems. As the Future of Banking is designed in light of the mobile first method, we will soon start to see a real revolution in this space, also Cyber-wise, with seamless protection layers to accommodate banking features.
XAVIER
So guys, will you help us better understand where we're standing today? What phase of the revolution are we currently experimenting?
NIR NETZER
Seems that we have much to do, and much to learn. This space is still young but we have seen a robust and intensive progress made on this topic during the last couple of years. We share our professional views on the Future of Banking innovation with many banks and financial institutions, analyzing current and future innovation trends and best practices to integrate FinTech and Cyber solutions. We notice a global acceptance from the banks' part to adopt innovation faster and we are glad to be in the core of this boiling eco-system – both locally in Israel and globally – it sure seems that some of the brightest FinTech ideation and innovation are coming from Israel and this definitely something to be proud of.
---