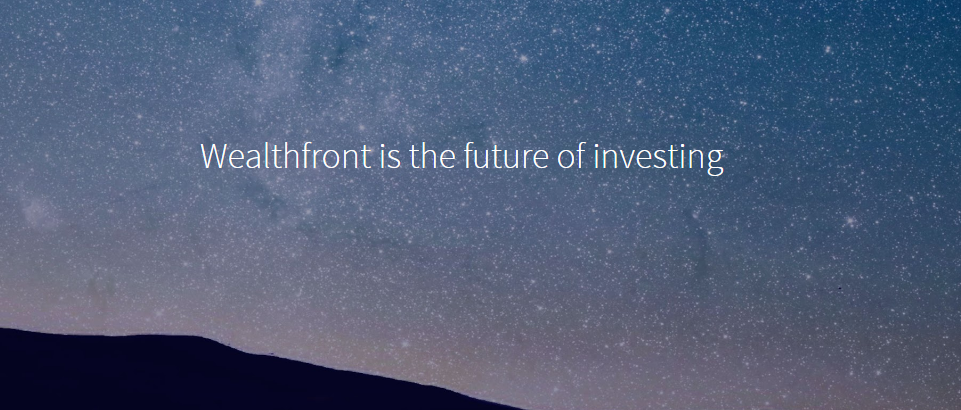 Wealthfront is a market leader among automated investment advisors, also known as "robo-advisors", which are a disruptive force in the wealth management and financial advisory industry.
Overview of the Financial Advisory Market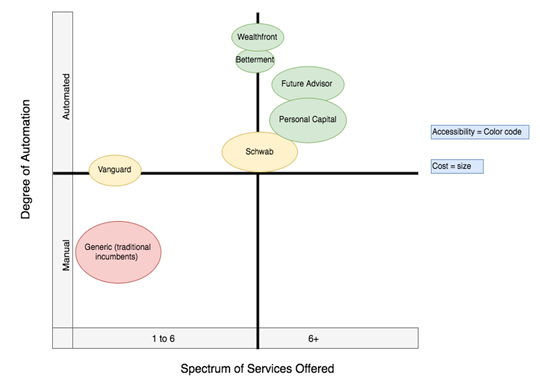 [tabs tab1="Accessibility" tab2="Cost" tab3="Service"]
[tab]
Understand it as the online distribution channel for wealth management services (Green = easily accessible, Orange = medium and Red = less accessible).
[/tab]
[tab]
The larger the bullet is the higher the cost will be.
[/tab]
[tab]
All companies graded on 6 selected key services (automatic rebalancing, budgeting tool, aggregator, automatic tax loss harvesting, ultimate tax loss harvesting, goal setting)
[/tab]
[/tabs]
Positioning Wealthfront in the competitors landscape
In our view, it can realistically aspires to be number 1 in one or more segments of this market. Wealthfront has entered the financial advisory space by focusing on an underserved client segment. The company's ambition is transformational both in terms of offering a new product and regarding its initial target client segment, hence we view its competitive strategy as mainly "further-out".
Consistent with being 'further-out', Wealthfront is an innovator in a few components of the ten types of innovation framework (Doblin), notably Process, Product System, Service and Customer Engagement.
Our choice of a visual framework with 2 customized axes illustrates how Wealthfront differentiates itself from the traditional offerings that dominate the market and from other disruptors.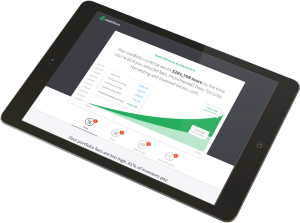 The company focuses on passive investors who prefer full automation, as shown on the y-axis. The company targets millennials, who are cost sensitive due to their lower asset base. Our visual framework reflects Wealthfront's competitive advantages in customer interface innovation or accessibility, breadth of service and cost-to-serve.
We believe that Wealthfront can maintain its competitive edge by adding further services, in particular reinforcing the company's capabilities within AI, and combining them with its lean and user-centered configuration. Wealthfront will benefit from economies of scale due to its high proportion of fixed (technology) costs. Its focus on AI will enhance the customer insight and experience and bring efficiencies of scale thus increasing retention rates. The initial R&D required to compete with its product offering is a barrier to entry for new disruptors.
Direct integration with platforms like Venmo, Redfin, Lending Club, Coinbase and distribution channels including bank accounts and external brokerage accounts will reinforce their competitive advantage.