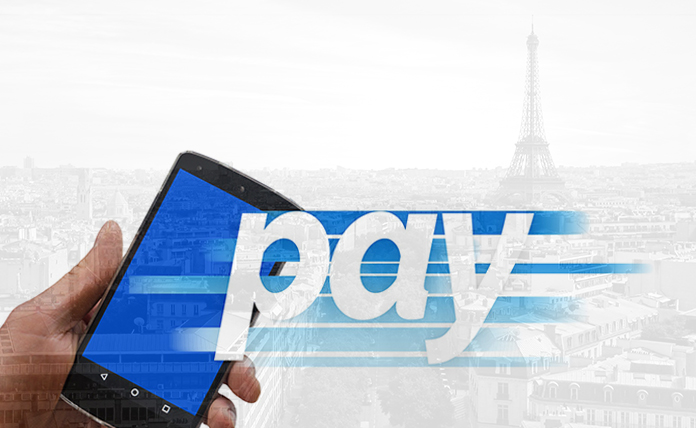 The French mobile payment market is getting into a fierce wrestling, with major players such as Paypal, Paylib, LyfPay, Tricount, Pumpkin and Lydia on the stage.
Globally, payment solutions have been modernized and reinvented by fintech startups, tech giants and banks, becoming one of the most mature sector and one that actually is profitable. Even ride-hailing companies like Grab are launching their own solutions.
How to differentiate yourself in such a crowded market? Some fintech start-ups bet on diversification. INVYO Insights would like to give you an overview of two prominent french payment solutions that were launched with the same vision but took two very different trajectories: Pumpkin and Lydia.
Companies' ID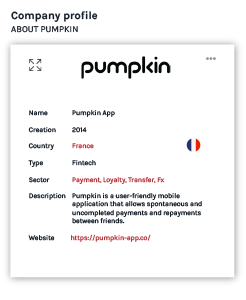 Pumpkin is a mobile application that allows spontaneous payments between friends.
Founded in 2014 by Constantin Wolfrom, Hugo Sallé de Chou and Victor Lennel in Lille, this French fintech offers its services only for users who have a French or Belgian phone number.
In 2017, Credit Mutuel Arkea acquired 80% of the company so as to add the payment solution to its product offering. According to the newspaper Le Monde, Pumpkin had more then 450 000 users at the end of 2018.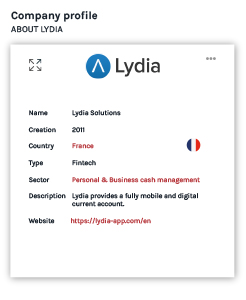 Lydia is a Paris-based fintech that initially provided a P2P mobile payment solution provides that since then moved to be a fully digital current account.
Created in 2011 by Cyril Chiche and Antoine Porte, Lydia expanded its activity in the UK, Spain, Portugal, Ireland and France.
Lydia has more than 2 million users in 2019, making it one of the most used app in finance in France.
Let's now try to go deeper into details on how the two payment solutions differentiate from one another to gain more traction:
Case studies
🌟 Fee scheme
To gain more market share, Pumpkin and Lydia chose from day one not to charge fees on basic transactions.
Both make money on their premium offers: Pumpkin with its offering Pumpkin Business and Lydia through its offering Lydia Premium and Lydia Pro.
🌟 Diversification strategy
Pumpkin positions itself as a community-based payment company with the goal to make payments enjoyable and friendly between friends. Pumpkin's target audience is 16-35 year-old digitial natives.
When it comes to Lydia, it seems to be more oriented on a full-wing bank, partly thanks to its additional services like pooled fund and lending. Lydia also targets the new generation but is collaboratying more with corporates like Casino to increase customer base.
🌟 Key partnership
Credit Mutuel Arkea acquired 80% of Pumpkin last 2017. The takeover was supposed to help the start-up diversify its activities to ultimately move to a Millenials' to-be bank.
Lydia has partnered with Younited Credit to let users lend between €100 to €1,000, directly from the Lydia app. Users can send, wire or spend that money right away in any store or on the Internet. Lydia also provides a mobile phone insurance delivered in partnership with CNP Assurances.
🌟 Data security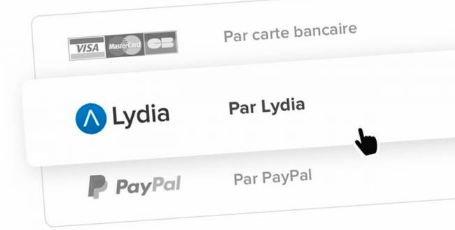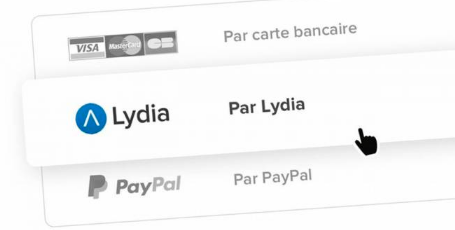 With the Pumpkin app, all data are encrypted so as to be classified. There is also a password with 4 numbers that is required for each payment. Consumers' personal data and transactions are protected by a platform that complies with the highest standards of banking and IT security (asymmetric RSA keys, 2048-bit data encryption, TLS1.2 communications).
Lydia offers online Mastercard with some provisional figures that change after one or several payment(s). Those one-off credit cards can be used for a single payment or for several online payments.
Invyo insights
🌟 Market coverage
Pumpkin is present in two countries: France and Belgium while Lydia operates in more countries: UK, Spain, Portugal, Ireland and France.
🌟 IT channels
Pumpkin is a mobile-only solution while Lydia provides both online and mobile solutions. Both Pumpkin and Lydia accept payments by QR code or contact sharing.
It appears that Lydia has much more options than Pumpkin: Virtual pay (Internet credit card), One-click payment, Apple pay, Google pay or Samsung pay.
Lydia also launched Lydia Premium for those who want to create virtual cards, link unlimited number of bank accounts to the app, make online pool without commission or even automate all their regular spendings.
🌟 Business-to-Business (B2B) approach
Company
Pumpkin Business
Lydia Pro
Pay by QR code
Yes
Yes
Online payment on the firm's website or with the firm's link
No
Yes
Cash customers "face to face"
Yes if they have the app
Yes if they have the app
Cash customers remotely
Yes if they send a payment request
Yes
Consult all transactions carried out
Yes
Yes
Scan tickets sold at the entrance of the company's events
Yes
No
Onlike ticket office for company's events
Yes
No
Export transactions in csv format
Yes
No
Payments in instalments
Yes
No
Make Free questions, MCQ, uploads..
Yes
No
Guarantee deposits (total or partial withdrawal)
Yes
No
Easy Access to the firm's accounting (invoices)
Yes
Yes
Min/Max amount per transactions
No
Yes: €0.5 - €1000
Obligation
No (except for partnership)
Yes but it's an option:
several monthly packages starting at €19.99 which allow users to benefit from a very advantageous rate, up to 0.3% per transaction.
Monthly subscription
No
No
Pricing system
For an event (excluding tax):
1.8% variable per ticket purchased
0.18ct of fixed price per ticket bought

For a cash "face to face" (excluding tax):
1% variable for mobile payment
0.10ct fixed per face-to-face transaction

0.7% for payments by QR code
1.5 % + 0,10ct for other means of payment

The first 10 QR code transactions of each month are offered (with a maximum of €600 amount)
Pumpkin Business allows firms or charities to set-up their box office which is not something that is delivered by Lydia.
---
What we see is that payment solutions start diversifying to gain more market share and attract new customers. The diversification strategy as seen above is slightly different between Lydia and Pumpkin.
---