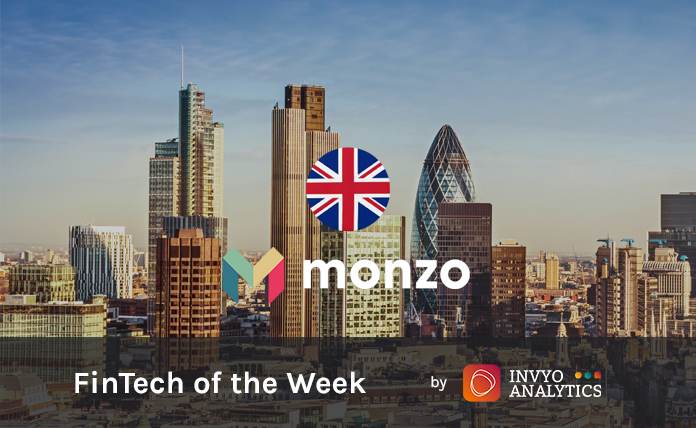 Our platform Invyo Analytics daily tracks thousands of start-ups worldwide and allows companies to automatically monitor market trends and opportunities.
This week, our tool caught Monzo on its radar because of the latest exciting news surrounding the start-up. Here is a wrap up on what is happening right now around Monzo:
🌟 Monzo's ID
Founded in 2015  by Tom Blomfield, Jonas Huckestein, Jason Bates, Paul Rippon and Gary Dolman, the London-based fintech Monzo is specialized in mobile banking services. As of to date, the company is primarly providing its banking solutions in the UK.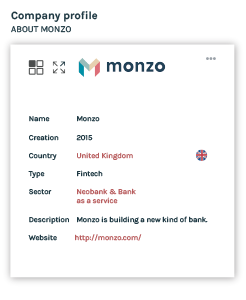 Having been granted with a UK banking licence back in April 2017, Monzo is authorized to provide its private clients with a credit card and a current account. Through its app, consumers can also check their spending and manage their savings.
Monzo is famous for being centered arount its community needs, being able to adapt quickly to match its customers interest. More recently, the company decided to address needs of other types of profiles: the Millenials (16-18 years old) and the Seniors in 2019. 
Find out more here 👉 https://monzo.com/
🌟 Key numbers
Over 2M users
300+ employees
Valued at $2.5B
40,000 new users open an account every week
🌟 Company Digest
News #1: the last fundraising
In June, Monzo received $130M from Accel Partners, General Catalyst Partners, Goodwater Capital, Passion Capital, LocalGlobe, Orange Digital Ventures, Stripe and Thrive Capital. The investment will fund its establishment in US.
News #2: the new adventure in US
Monzo is determined to enter new markets especially the US's one. A part of its workforce has been already working in Los Angeles. However, the fintech wants to provide its services in the US and is ready to seduce American consumers. Meanwhile, Monzo is going to apply for the US banking licence so as to be "the bank of the future".
News #3: Partnership with Transferwise
Monzo integrated UK cross-border money transfer fintech TransferWise into its app, which will enable the neobank's customers to provide international transfer in 16 currencies.
2019 seems a highlight time for Monzo, which is valued at $2.5B after its recent fundraising, making the firm more expensive than its historical fiend Revolut.
🔥 We will soon update our report on the neobank landscape in Europe! 
---
🔍 Find out more about fintech start-ups HERE
---