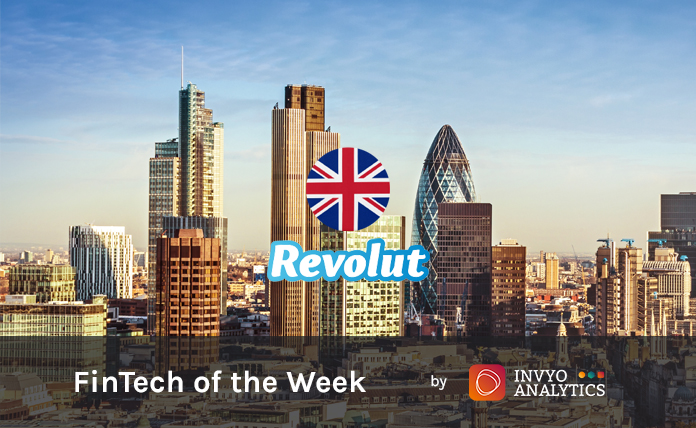 Our platform Invyo Analytics daily tracks thousands of start-ups worldwide and allows companies to automatically monitor market trends and opportunities.
This week, our tool caught Revolut on its radar given the rise of positive and negative hype around the unicorn. Here is a wrap up on what is happening right now around Revolut:
---
Access more data in Fintech
---
🌟 Revolut's ID 
Revolut was founded by Nikolay Storonsky and Vlad Yatsenko in 2015 and is well-known for its online payment solution.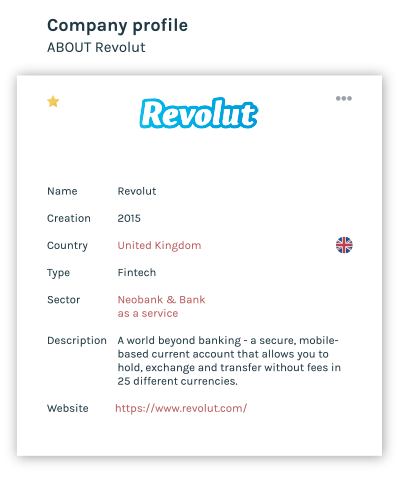 With Revolut, both individuals and companies can easily and quickly transfer money and pay anywhere in the world, and can open a secure and mobile-only current account to manage money.
This London-based company offers several banking services including a pre-paid debit card (MasterCard or Visa), cryptocurrency exchange, peer-to-peer payments and currency exchange.
More recently, the company released a multi-currency account for small and medium size companies.
🌟 Key numbers
4.9M users located in more than 30 countries

350M transactions all over the world

25 currencies
France is the 2nd biggest market for Revolut
🌟 Company Digest
News #1: Brexit
Revolut has been seeking more licences not to be impacted by the Brexit. In 2017, the fintech applied to a Lithuanian licence.
News #2: Russia
The Lithuanian Parliament is concerned about the link between Russia and Revolut, fearing a "political vulnerability" to Russian power. The licence could be cancelled if the suspicion become true.
News #3: Compliance
Revolut is under the radar of the Financial Conduct Authority (FCA). According to the regulator, the fintech suspended one of its tools for monitoring suspicious transactions during three months in 2018.
The shutdown of a compliance mechanism to detect money transfers that could violate regulatory obligations lasted several months. The FCA is vigilant with neobanks as money laundering and terrorism financing can highly happen during a system's failure.
News #4: Hard Working
Revolut is also known for its hard working conditions. Many employees are said to be exposed to high pressure. Several of them decided to resign.
News #5: New features
Revolut is still well known for releasing new features at an impressive path. Examples include the vaults collaborative or Apple Pay. Recently, the company said it was looking to attract new types of customers and could soon launch Revolut Youth, a new app for younger customers.
---
Revolut faces legal challenges but those issues don't discourage the fintech from continuing its activities and being ambitious.
---
🎁 Discover more about fintech HERE
---