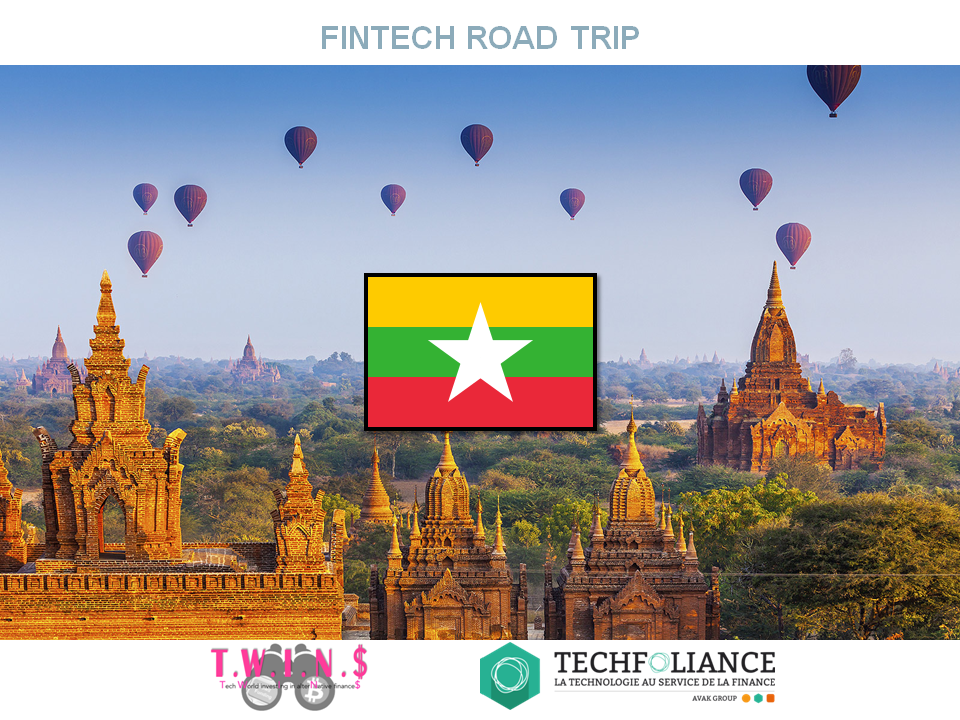 We conclude our Road Trip in Myanmar here with the FinTech Twins. 
You've seen it, Myanmar is standing at the tipping point of a financial transformation and FinTech could have tremendous benefits for the burmese. But before that happen, the country still have to overcome key challenges :
[tabs tab1="Opportunities" tab2="Challenges"]
[tab]
1/ Improve financial inclusion through agent and mobile banking. 
We believe that, in Myanmar, grocery shops will become de facto banks. As we saw in the country analysis, only 5% of the population has a bank account. Unlike Burmese banks, which cannot open bank branches in the whole country while staying profitable, these small grocery shops already have the necessary network and can become de facto 'bank branches' to include unbanked population.
2/ Foster partnerships between banks, Telco and other ICT companies.
Banks will have a clear role to play in the financial inclusion but they do not have the networks and technology to do this alone. Interestingly in Myanmar, Telco's have started to build large distribution networks, and have already partnered with FinTech start-ups. For instance, ConnectNPay has partnered with Myanmar's leading ICT group, MCC Group, to launch its mobile wallet.
3/ Open Myanmar to the rest of the world.
The first FinTech conference has set the tone – with speakers coming from Bangladesh, Singapore etc. And successful FinTech ventures, such as the Singapore-based FastaCash or LeoTech, have already tried to penetrate the market. In this newborn democracy, we trust Myanmar will be a greenfield opportunity for successful Asian start-ups willing to scale. And this is particularly true in mobile banking and in the remittance industry.
[/tab]
[tab]
1/ A lack of basic infrastructures.
How can FinTech really develop in a country with several power cuts a day and limited Internet connectivity?
2/ A lack of customer awareness and trust in technology.
Here, we believe education will be key… And FinTech should be simple, at least initially. Better to walk before you can run!
3/ A nascent financial system.
Where Western FinTech has been built on top of existing old financial systems, Burmese FinTech has to start everything from scratch!
4/ A limited talent pool.
Burmese 'FinTech' talent is, so far, a scarce resource. However some 'tech hubs', such as the Yangon MICT Park (and to a lesser extent the Mandalay's one) might well be the future hubs for appealing fresh and innovative spirits.
5/ A limited capital pool.
Where VC funds are popping up in the USA and family offices are investing the Indian FinTech scene, funds are still limited in Myanmar. However, foreign investment, through local partnerships or joint ventures might be a good solution.
6/ Still some regulatory barriers.
In April 2016, the Central Bank of Myanmar released regulations on mobile financial services, widening a market previously limited to banks to include non-banking financial institutions. This means, mobile financial service providers, such as Wave Money, can offer a number of services including kyat-denominated cash-in, cash-out transactions, money transfers and domestic payments, and most importantly, mobile money providers will be able to have their own clients (without having to keep them with a bank). However, the regulations regarding international remittance services, digital currencies, crowdfunding are still to be debated. The strict regulation toward foreign investments might also limit the entry of successful foreign start-ups.
[/tab]
[/tabs]
---
We hope you enjoyed discovering the FinTech ecosystem in Myanmar with us. For more details, do not hesitate to contact us directly to myfintech@insights.invyo.io/europe or twins.alternative@gmail.com.