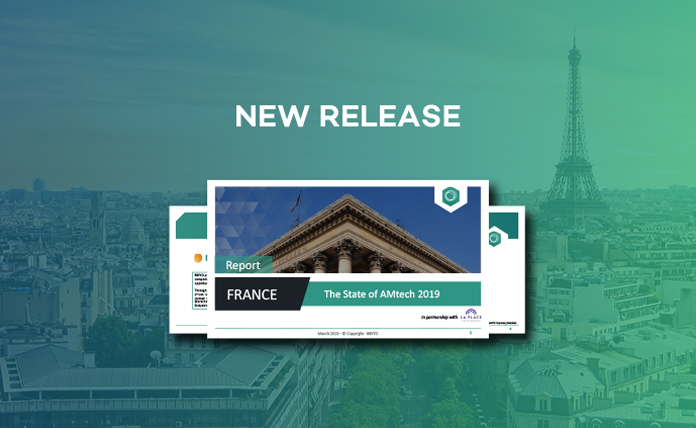 From decision support to middle office to legal and risk management solutions, start-ups are targeting all parts of the asset management industry.
The potential for disruption is huge in France for the asset management industry, with the country hosting some of the world's biggest players like Amundi AM ($1 730), Natixis IM ($942) or AXA IM ($830).
---
Access your own dashboard now
---
The State of AMtech 2019
Download PDF
In this report, our research team went through the funding activity of AMtech start-ups in France and Europe. A brief comparison is also made regarding robo-advisors' AuM in France and the rest of Europe.
In partnership with La Place Fintech, the new Paris-based innovation hub that brings together all players in finance, the study gives you a detailed view of notable M&A deals and use cases on AI or blockchain technologies disrupting the asset management industry.
We used INVYO Analytics data to identify 54 private AMtech companies in France in each category of the value chain. These solutions are supporting asset managers in generating Alpha and are providing a new set of tools to better respond to clients expectations.
Key takeaways
🔸 France is currently hosting 54 AMtech start-ups, with 50% of them that are existing since more than 5 years;
🔸 The biggest round was closed by risk management company Tinubu Square with a massive €53M raised last October 2017;
🔸 Based on our estimates, robo-advisors in France raised a total of €24M+ to date, far less important than their peers in the UK (€300M+) or Germany (€100M+);
🔸 Most represented categories in Asset Management technologies are Decision Support (16), Legal, Risk & Compliance (11) and Data Analytics (9);
---
>> Access the briefing for FREE by following this link
---
Share your feedback by leaving a comment below!