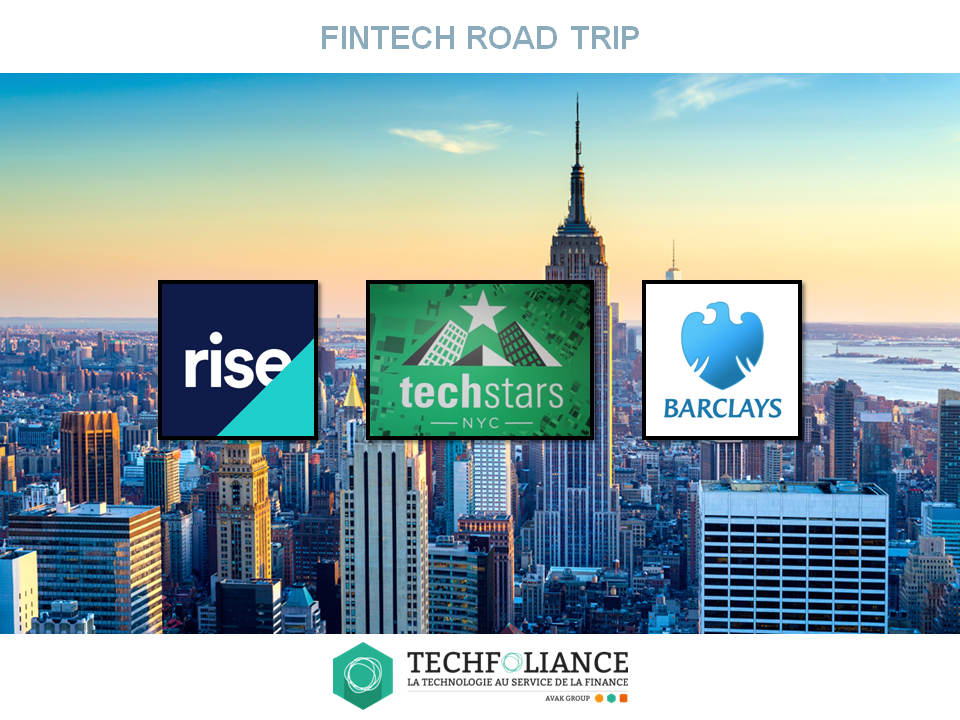 In the context of the Fintech Road Trip, the Techfoliance Team met some of the main Fintech actors and investment firms involved in the sector.
Nathan Sexer, our US reporter and Fintech Analyst, had the great pleasure of meeting the Rise New York and Barclays Accelerator teams, who are helping facilitate the 2nd annual accelerator cohort in New York.
RISE, a worldwide FinTech community:
"Rise New York is part of a global community of the world's brightest thinkers and doers creating the future of financial technology. We listen, nurture and oxygenate through our international network of Rise spaces, and connect, co-create, and scale innovation, in partnership with Barclays. Rise New York also houses a world-class event space and is home to the U.S. cohort of the Barclays Accelerator, powered by Techstars."
In the heart of Manhattan, at two steps from the Empire States Building, Rise New York is the place to be in terms of Fintech in New York City, the hottest Fintech place in the world.
With locations in London, Manchester, Vilnius, New York, Cape Town, Tel Aviv, and Mumbai, they enable Fintech ventures around the globe to "connect", "co-create" and "scale" their vision to the global market.
It is more than a simple co-working space, as Rise has created a global community, providing a powerful network to the startups and entrepreneurs taking part in their programs, hackathons, seminars, challenges, conferences and every kind of Fintech-related event.
Housed at each Rise site is a Barclays Accelerator cohort, powered by Techstars:
"The Barclays Accelerator is a unique program designed to take your business further. It's fintech-focused and over-flowing with opportunities. In partnership with Techstars, it is helping start-ups take their businesses to the next level and transform the world"
http://www.barclaysaccelerator.com/#/new-york/
To briefly introduce Techstars, it is one of the biggest startup accelerators in the world. Ranked 3rd in "The Best Startup Accelerators Of 2015" by Forbes, it is also one of most renown with 762 companies accelerated since inception cumulating a Market cap of around $5.0Billion. They are extremely active in the Startup ecosystem, with their accelerator but also with their Startup Weekends, in partnership with Google For Entrepreneurs, that account for more than 1000 challenges for entrepreneurs a year, in more than 150 different countries.
http://www.techstars.com/
Every year, they organize the Barclays Accelerator, a 13-week program that takes Fintech startups to the next step, providing an "extensive group" of mentors with a wide background: Industry experts, VCs, Bankers, serial entrepreneurs, forming a powerful network to accompany accelerated startups.
In New York, around 10 companies join the program each year, going through a tough selection process. Their scope is pretty wide, and most of Fintech companies from around the globe can apply: "from cyber security and artificial intelligence through to wealth management, investment banking, big data and crytocurrency – any area of fintech will be considered."
According to Jenny Fielding, Managing Director at Techstars and responsible for the Fintech accelerator in New York:
"Many disagree on exactly what technologies or business models fit in the category of fintech. To us, if a business can disrupt or innovate a financial services company in any way, we are interested."