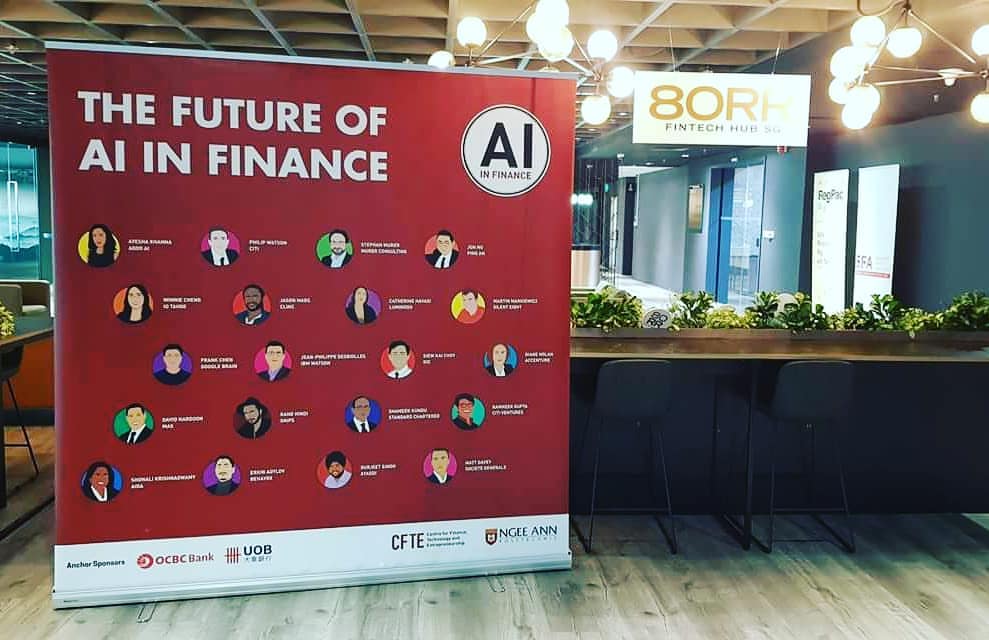 Ngee Ann Polytechnic and Centre for Finance, Technology and Entrepreneurship (CFTE) are about to launch AI in Finance (AIF), the first online programme for finance professionals.
Despite the growing hype around Artificial Intelligence (AI), many finance professionals are still unfamiliar with the impact it will have on their industry.
AI in Finance (AIF)
Ngee Ann Polytechnic (NP), one of Singapore's leading institutes of higher learning, is partnering with London-based Centre for Finance, Technology and Entrepreneurship (CFTE) to launch the first online course to showcase AI applications and use cases in the banking industry.
According to Mr Clarence Ti, Principal at NP:
"AI is a technological driving force that no industry can ignore. Some studies estimate that about 50 per cent of today's tasks would be assisted by AI in the next 20 years. With Singapore and London gaining recognition as leading fintech hubs of the world, it is timely for NP and CFTE to launch an industry-led course that provides finance professionals and others a practical guide to AI."
Mr Huy Nguyen Trieu, co-founder of CFTE, said in a recent interview to eFinancialcareers:
"You will also see that a lot more can be automated in future. If you want to keep your job, you need to question both what your role will be in this automated future, and what impact artificial intelligence will have on your area of the business."
Through this course, both NP and CFTE hope to support and to nurture talent in fintech and to boost fintech development in their respective regions and around the world.
Educating the banking industry
OCBC Bank has been one of the early bank to show interest for such programme, committing up to 1,000 training places to equip its employees with skills that are relevant to the future economy. As said by Ms Yap Aye Wee, Head of Learning & Development, Group Human Resources at OCBC Bank:
"Thanks to our pool of skilled employees, OCBC Bank has successfully rolled out initiatives like AI-powered chatbots Emma, for home loans, and Buddy, for employee's HR related queries. The AIF programme will help us build on our AI-edge by equipping more staff with such skillsets that are relevant to the future of banking."
Ms Jenny Wong, Head of Group Human Resources, United Overseas Bank (UOB) said:
"Ensuring that our people have the relevant skillsets and agile mindsets is a priority at UOB. The AIF will complement our suite of training programmes aimed at deepening the digital capabilities of our colleagues. Through the programme, our people will have a deeper understanding of AI in order to harness the technology for enhanced performance and a more instinctive customer experience."
The online course
Lecturers
Over 20 industry insiders and thought leaders, from China to US, from regulators to banks to tech giants to start-ups to venture investors, come together for a practical look at the world of AI in Finance.
Lecturers include Dr Ayesha Khanna, Co-Founder and CEO of ADDO.AI (Singapore); Mr Jon-Tzen Ng, CIO at Ping An Technology (Shanghai); Dr Stephan Murer, former global CTO at UBS (Zurich); and Dr Winnie Cheng, CTO and CDS at Flowcast (New York).
Guest speakers are also coming from leading organizations such as the Monetary Authority of Singapore (MAS), Citi Ventures, Standard Chartered Bank or IBM Watson Group.
The programme
The course will be conducted entirely online, and includes 18 modules that cover a wide range of topics, from the basics of AI technology to the implementation of AI at the strategic level.
Mr Patrice Choong, Director for The Sandbox, NP's innovation and enterprise office that is spearheading the joint development of AIF with CFTE, explained:
"Participants will be exposed to industry insights and real-life case studies to ensure that the content is relatable to them. For example, there are already applications of AI in areas such as insurance, credit scoring and customer service. All these case studies will form part of the course content and discussion."
The online course will be released on monday the 25th and is applicable to any finance division: capital markets, front office, compliance, risk management or insurance.
---
---
AIF's robust ecosystem not only offers participants access to thought leaders in the industry, AI startups and finance companies that have adopted AI, but also provides potential opportunities in the form of internships and jobs as well as a supportive community that possesses a wealth of knowledge in the financial sector.
---