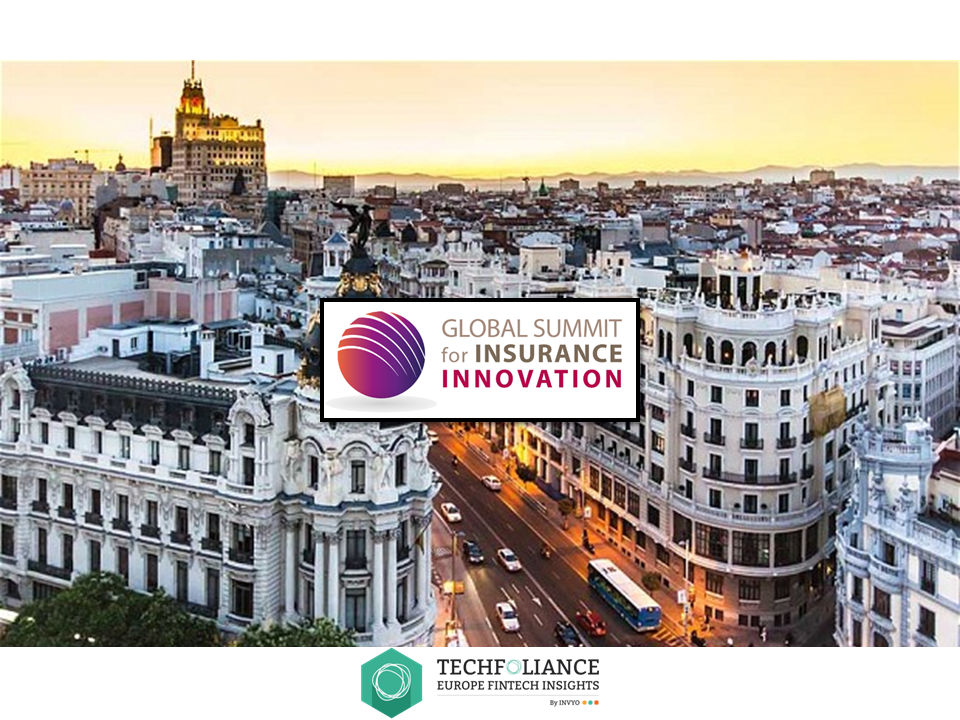 Join Techfoliance next June the 21-22th 2018 in Madrid for Global Summit for Insurance Innovation (GSII), one of the most important summit in Europe addressing top trends in the insurance and tech industry.
For this new edition 2018, the GSII will gather more than 200 attendees, 50+ C-level executives and 60+ companies coming from all around the world. The GSII is an invite-only event focused on innovation in insurance, also known as Insurtech.
Insurance leaders are facing strategic and operational challenges and rush to build an integrated customer experience that brings together their value propositions across multiple touchpoints, distribution channels and customer segments.
Fintech in Spain: key figures
The spanish Fintech sector saw an increase of 400% between 2013 and 2016.
---
Spain is the largest market of Fintech innovation in Ibero-America with 200+ Fintech start-ups.
---
The 4 largest Fintech segment in Spain are Payments & Remittances (21%), Lending (18%) and Enterprise Financial Management (11%) followed by Crowdfunding (10%).
---
GSII At a glance
The Global Summit for Insurance Innovation Forum 2018 will bring together market leaders from many different European countries at different level of maturity about Innovation and Digital to discuss the newest trends and challenges in meeting and exceeding customer expectations.

You can see All speakers here
---
Why you should come ?
GSII will host an event called "Insurtech Pitch Day", where European-based insurance startups will be invited to deliver a 6-minute pitch to an audience of 200+ top insurance executives.
The conferences will be conducted around key topics such as:
How CEOs see innovation: a view from an insurance leader
AI is the new revolution
How corporate can deal with Insurtech? Methodologies to invest and collaborate
Women in innovation: how do they disrupt insurance?
Sharing economy, from a new economy to new business opportunities
Dark Web and risks for the insured
How Insurers can take advantage of Blockchain
Are insurers too big to innovate?
See agenda for full event details
---
Techfoliance is glad to come to this event as a media partner. We will forward you with daily live news so that you can follow the best of GSII if you did not have the chance to come directly to Madrid to attend the event.
Do not hesitate to contact us before if you want to manage a meeting with our team to share thoughts, become a contributor or pitch your Fintech to be featured on our media!