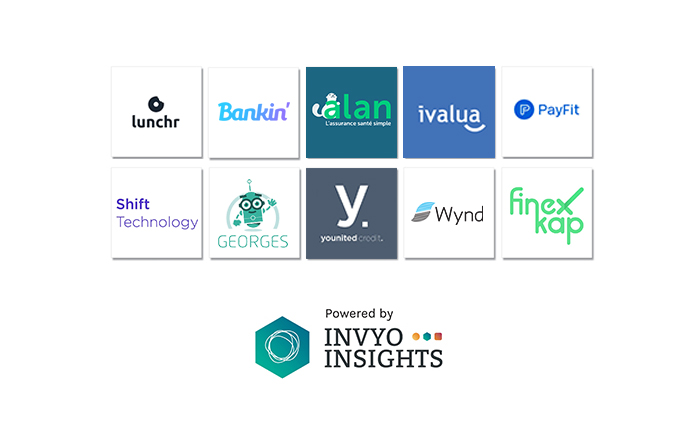 INVYO is monitoring real time market changes in fintech all over Europe. In this short analysis, we have extracted the data on the fund raised by French fintech players during the first semester of 2019.
This semester is set be a record period for French fintech start-ups. The country is about to create industry champions that are well positionned to have a global reach. See it by yourself below:
---
Access more data in Fintech
---
Key takeaways
Please note that the analysis is based only on the companies which appear in the table below. Last update: June the 26th, 2019.
Biggest fundraising (by Value):
🏆 Wynd (€72M)
🏅 Payfit (€70M)
🏅 Younited Credit (€65M)
During the semester, French fintech players have raised an estimated of more than 521 million euros, already bypassing the total amount raised last year (See the detail below).
Most active investors (by Number of deals):
🏆 BPI (10 deals)
🏅Allianz (3 deals)
Followed by other corporate and VC investors: BlackFin Capital (2), Eurazeo (2), XAnge (2) or BNP Paribas (1).
Most invested sectors (by Number):
🏆 Insurtech (8 Fintech)
🏅 Personal and Business Cash Management (5 Fintech)
🏅 Alternative Funding (4 Fintech)
Followed by other segments: Payment (4), Service to Finance (3), Neobank & Bank-as-a-service (2), Wealth management & Investment tools (2), Crypto (1) and Regtech & Risk management (1).
Mapping the fund raised by French fintech as of H12019 (by Value)
We invite you to share your feedback in the comments below. Please also note that the ranking does not include investments of less than €1M as well as the deals that are not disclosed.
| Ranking | Name | Sector | Fundraising | Investors | Date |
| --- | --- | --- | --- | --- | --- |
| 1 | Wynd | Personal & Business Cash Management | €72M | Natixis, Sofina and BNF Capital | January |
| 2 | Payfit | Service to Finance | €70M | Eurazeo and Bpifrance | June |
| 3 | Younited Credit | Alternative fundings | €65M | Bpifrance, through Large Venture, Eurazeo Growth, AG2R La Mondiale and Le Bon Coin | June |
| 4 | Ivalua | Service to Finance | €60M | Tiger Global Management, Ardian | May |
| 5 | Shift Technology | Insurtech | €53M | Accel Partners, Bessemer Venture Partners, Elaia Partners, Iris Capital, General Catalyst Partners | March |
| 6 | Alan | Insurtech | €40M | Index Ventures, DST Global | February |
| 7 | Finexkap | Personal & Business Cash Management | €39M | Chenavari Investment Managers | June |
| 8 | Lunchr | Payment, Loyalty, Transfer, Fx | €30M | Index Ventures, Kima Ventures, Idinvest Partners, Daphni | February |
| 9 | Bankin | Personal & Business cash management | €20M | Omnes Venture Capital, CommerzVentures, Casino Group | April |
| 10 | Georges | Personal & Business cash management | €10M | Alven | June |
| 11 | Bleckwen | Payment, Loyalty, Transfer, Fx | €9M | Ring Capital, Bpifrance, Tempocap and Ineo | June |
| 12 | Pretto | Alternative funding | €8M | Pierre Kosciusko-Morizet, Blackfin Capital | February |
| 13 | Mooncard | Payment, Loyalty, Transfer, Fx | €5M | Raise Ventures and Aglaé Ventures | January |
| 14 | Sesamm | Wealth management & Investment tools | €4.4M | Havenrock, Caisse d'Epargne, Angelsquare and A-venture | April |
| 15 | YesWeHack | Regtech & Risk management | €4M | Open CNP, the corporate venture program of CNP Assurances, and Normandie Participations | February |
| 16 | Active Asset Allocation | Wealth management & Investment tools | €4M | Private investors, Maif Avenir, Région Sud Investissement (Turenne Capital) and InnovAllianz | June |
| 17 | Pixpay | Neobank & Bank as a service | €3.3M | Global Founders Capital and business angels | May |
| 18 | Wilov | Insurtech | €3.2M | Allianz France and Arkéa | April |
| 19 | Testamento | Insurtech | €3M | La France Mutualiste, Allianz France and Malakoff Médéric Humanis | February |
| 20 | Coinhouse | Crypto & Blockchain | €2.4M | Blockchain ConsenSys, XAnge and Digital Currency Group | January |
| 21 | Descartes Underwriting | Insurtech | €2M | BlackFin Capital | February |
| 22 | Otherwise | Insurtech | €2M | 360 Capital Partners, Bpifrance and Business Angels | May |
| 23 | Qape | Insurtech | €2M | Cap Innov'Est and Business Angels | January |
| 24 | Yeeld | Personal & Business cash management | €1.6M | Bpifrance and Business Angels | February |
| 25 | Ipaidthat | Service to Finance | €1.5M | Truffle Capital, Bpifrance and business angels | April |
| 26 | Solylend | Alternative funding | €1.4M | Business Angels, Bpifrance, la Nouvelle-Aquitaine Region, Technostart (by Technowest) | February |
| 27 | Eloa | Insurtech | €1.3M | Serena Capital, XAnge and Cap Décisif Management | March |
| 28 | Mipise | Alternative funding | €1.3M | INVESTESSOR, Sibessor 2, EDULIS, BPI and European Investment Fund (EIF) | May |
| 29 | Moneway | Neobank & Bank as a service | €1.1M | Business Angels and Bpifrance | June |
| 30 | Paytrip | Payment, Loyalty, Transfer, Fx | €1M | BNP Paribas, Crédit Agricole and BPI | January |
---
🎁  Access more data in Fintech  🎁
---