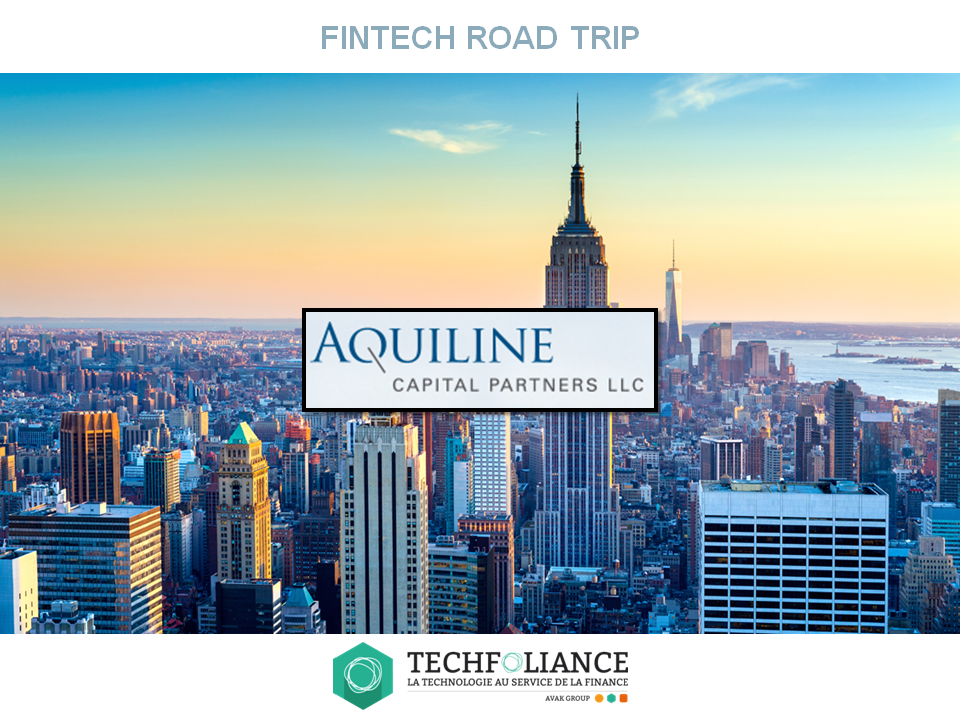 In the context of the Fintech Road Trip, the Techfoliance Team met some of the main Fintech actors and investment firms involved in the sector.
Nathan Sexer, our US reporter and Fintech Analyst, had the great pleasure of meeting Aquiline Capital Partners' Fintech team and Geoffrey O. Kalish, Partner of the firm.
In this article, we will introduce you the investment firm and its portfolio of FinTech companies.
Aquiline Capital Partners
Aquiline Capital Partners is a New York-based private equity firm investing in financial services in industries such as banking and credit, insurance, investment management and markets, and financial technology and services.
Founded in 2005 by Jeff Greenberg, former CEO of Marsh & McLennan Companies, Aquiline Capital Partners has invested more than $1.9 billion since its creation. These investments have been made in 32 middle-market financial services businesses in North America and Europe.
They have just closed a new fund at more than $1.1 billion commitments and recently made one investment of approximately $70 million in an insurance services business in Texas.
Portfolio of FinTech companies
Aquiline Capital Partners mostly invest in mid-market and established businesses valued between 10 and 150 million dollars.
They focus on companies that solve complex problems for SMEs and Institutions, and prefer to invest in niche solutions and markets avoiding overvalued B2C and C2C solutions.
Its portfolio spans the banking and credit, insurance, investment management and markets, and financial technology and services industries. It includes start-ups, growth equity and buyouts, corporate carve-outs, consolidations, and turnarounds.
In this article, we wanted to focus on the specific sector of "Financial Technology and Services", putting aside their investments into Insurance and Investment Management solutions.
Let's make a quick overview of their FinTech matrix followed by a short description of each company: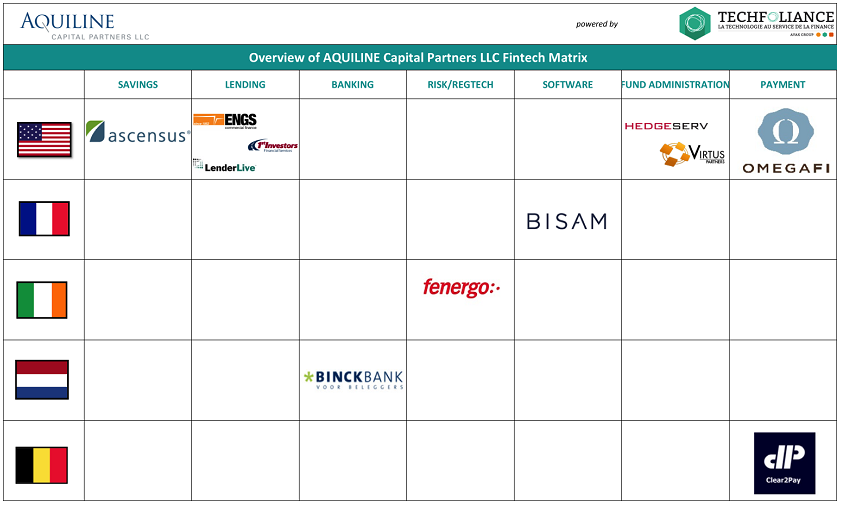 [divider] PORTFOLIO [/divider]
ASCENSUS, INC: A tech platform to help employers offer and manage retirement accounts. It is the largest independent retirement and college savings services provider in the United States.
---
BI-SAM TECHNOLOGIES SA: The leading provider of sophisticated digital solutions for performance, attribution, market risk, portfolio construction, GIPS composites management and reporting.
---
BINCKBANK NV: An online bank for investors. Its core business is providing a comprehensive, user-friendly website that allows private investors to invest easily and quickly anywhere in the world at competitive rates.
---
CLEAR2PAY NV: An innovative payments technology company focused on delivering globally applicable solutions for secure, timely and streamlined payments processing.
---
ENGS COMMERCIAL FINANCE CO.: A famous commercial finance company that helps dealers and manufacturers sell more equipment and promote a higher percentage of repeat customers.
---
FENERGO GROUP, LTD: An award-winning provider of enterprise Client Lifecycle Management platform solutions designed to help financial institutions to manage the end-to-end regulatory onboarding process.
---
FIFS (First Investor Financial Services): It is an automobile finance company that serves the special finance needs of automobile dealers and consumers.
---
HEDGESERV HOLDINGS LP: A hedge fund and fund of hedge funds administrator, provides clients with improved access to critical information required to run their businesses, manage risk, execute trades, and build more robust and timely reports for their traders, investors, and regulators.
---
LENDER LIVE: A domestic-based mortgage services provider offering six different services: outsource services, correspondent lending, loan servicing, document services, settlement services and due diligence.
---
OMEGAFI: It provides financial, fundraising and communication software, payment solutions and support for fraternities and sororities across the United States.
---
VIRTUS PARTNERS, LLC: It provides alternative asset administrative and middle office services and data to funds and various investment vehicles.
---
WHAT'S NEXT ?
We conclude our interview here. We hope you enjoyed discovering this amazing VC fund ! Follow us on our quest accross the world of Fintech.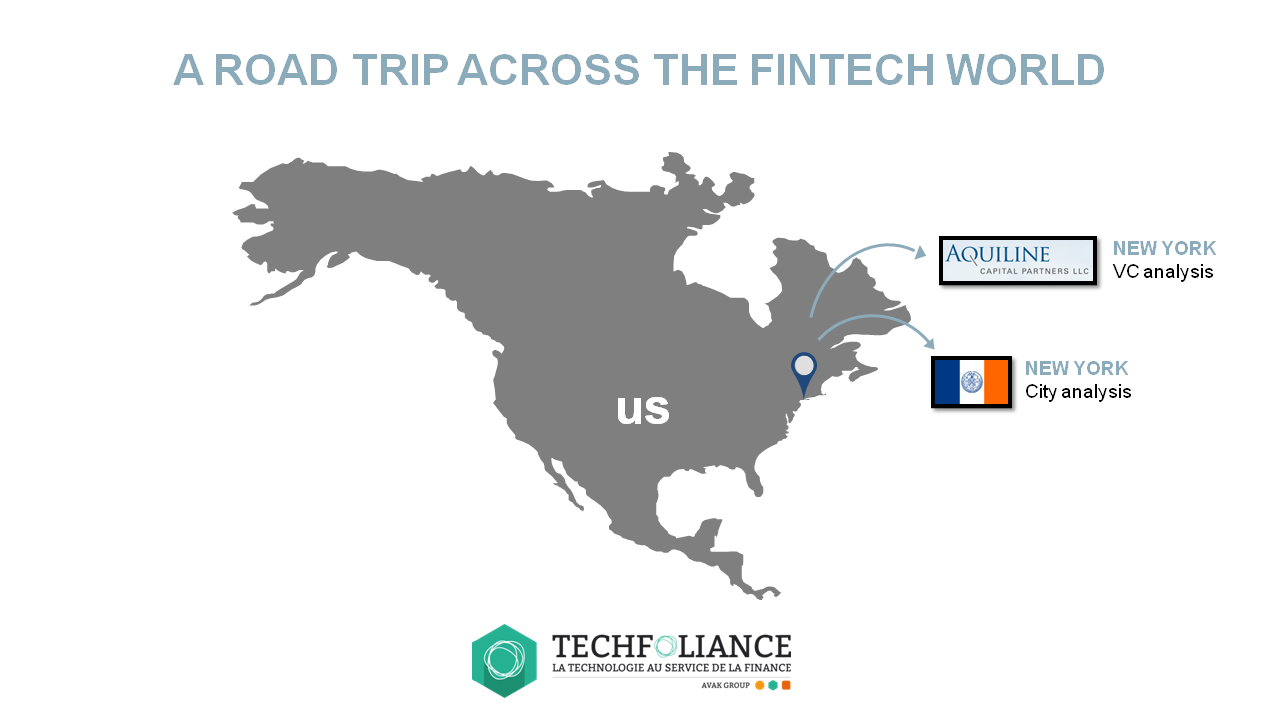 City analysis : Fintech in NEW YORK
VC analysis : Aquiline Capital Partners – Fintech VC – New York