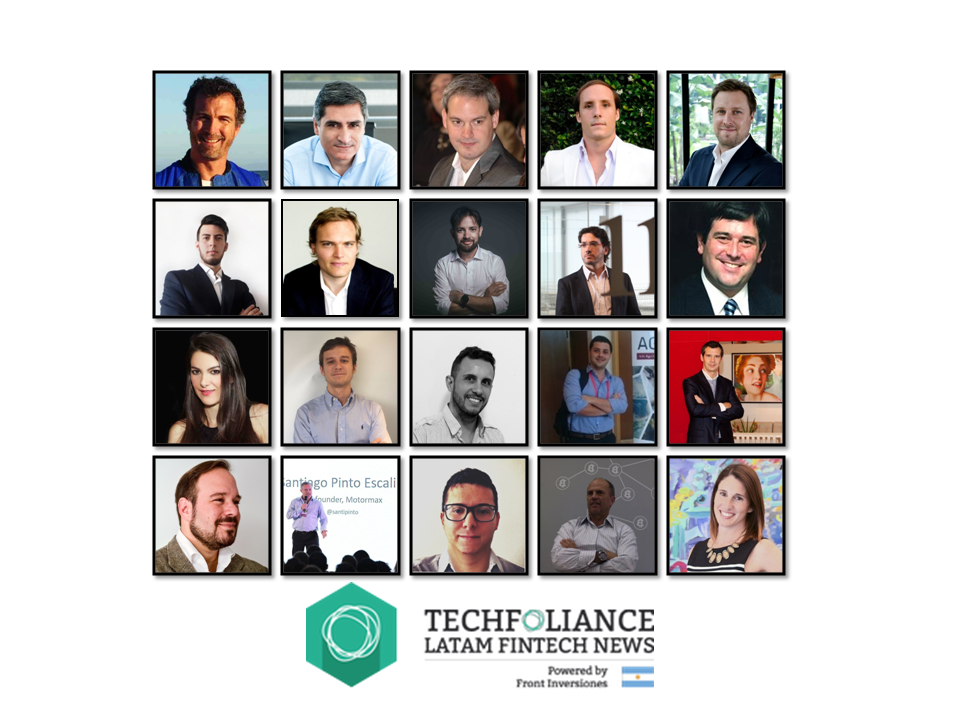 Techfoliance is introducing you its list of the 20 must-know Fintech influencers in Argentina. Among them are popular entrepreneurs, Fintech experts and innovation leaders. 
Top Fintech influencers in Argentina
We based our analysis on a series of metrics reflecting the engagement of each professional on the list in the Argentinian Fintech ecosystem, such as:
Professional achievements (founding / being a member of a Fintech company, having a relevant current role in the sector, attracting considerable amount of investments to one's companies)
Participation in the Fintech community (organizing, hosting, speaking at or being a panelist at key events; being part of accelerators or associations fostering the development of the industry; being a thought leader in the sector)
Social media activity (having a relevant number of followers, sharing interesting content across different social media platforms)
Please keep in mind that this is not an exhaustive list neither a ranking. It is the first update of a more established list. There are many more people currently contributing directly or indirectly to the Argentinian Fintech ecosystem. 
Last update: 20 September 2017
| | Picture | Name | Role | Sector | City |
| --- | --- | --- | --- | --- | --- |
| 1 | | Alejandro Estrada | Co-founder at iBillionaire & Moni and co-founder at ArFintech | Mobile Banking | Buenos Aires |
| 2 | | Ariel Arrieta | Co-founder and Managing Partner at NXTP Labs | Fintech | Buenos Aires |
| 3 | | Alejandro Cosentino | Founder & CEO at Afluenta | P2P Lending | Buenos Aires |
| 4 | | Martin Borchardt | CEO & Founder at Nubi | Banking | Buenos Aires |
| 5 | | Federico Gómez Romero | CEO & Co-Founder en Credility | Lending | Buenos Aires |
| 6 | | Nicolás Andrés Galarza Ricci | CEO at Quiena | Robo-advisor | Buenos Aires |
| 7 | | Jorrit Koop | Co-Founder at First Circle | Lending | Buenos Aires |
| 8 | | Sebastian serrano | Co-founder & CEO at BitPagos | Bitcoin | Buenos Aires |
| 9 | | Facundo Garretón | Founder & CEO at InvertirOnline.com | Trading | Buenos Aires |
| 10 | | Gonzalo Blousson | Co-Founder / CEO at Signatura | Blockchain | Buenos Aires |
| 11 | | Clementina Giraldo Z. | Principal Executive at the Development Bank of Latin America | Fintech | Buenos Aires |
| 12 | | Alan Mac Carthy | Fintech specialist | Digital Banking | Buenos Aires |
| 13 | | German Gimenez | CEO & Co-Founder Olpays.com | Payments | Buenos Aires |
| 14 | | Pablo Sukmann | CEO at Emprestify | Lending | Buenos Aires |
| 15 | | Lucas Juri | Business Consultant & Strategy Advisor | Fintech | Buenos Aires |
| 16 | | Diego Gutiérrez Zaldívar | Co-founder & CEO at Koibanx and Rsk Labs | Blockchain | Buenos Aires |
| 17 | | Santiago Pinto Escalier | Co-Founder at Motormax | Investment | Buenos Aires |
| 18 | | Pablo Ruiz | Head of Sales at SysWorld, Managing partner at DISR - Innovacion disruptive and Director at NXTP Labs | Blockchain | Buenos Aires |
| 19 | | Eduardo Del Pino | CEO at Bitex.la | Bitcoin | Buenos Aires |
| 20 | | María Gabriela Roberto Baró | Innovation Team at Banco Comafi and Co-founder at Kardyt | Digital Banking | Buenos Aires |