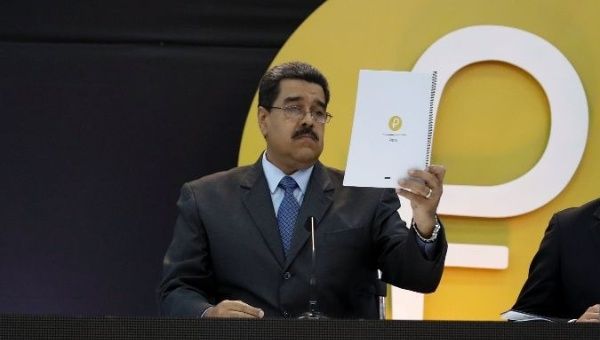 President Nicolas Maduro announced few days ago the launch of Venezuela's own digital currency called 'petro' to facilitate financial transactions.
According to the government, Venezuela's petro token will be backed by its oil, gas, gold and diamond reserves and investment will come from Qatar, Turkey and other Middle Eastern countries, as well as from European nations and the US.
However, many doubt that the digital currency will bring much benefit to either Venezuela's economy or its people. As stated by Francisco Toro, a Venezuelan journalist:
"Venezuela has been trying to figure out ways to get around anti-money laundering sanctions provisions, and crypto is maybe one way they can do that. I do think that part of this is about getting investors from non-traditional lenders, from Russia and China, to put in some more money, to lend fresh cash."
Toro said that Venezuela's economic woes have given it a bad credit reputation and that the government was trying to convince itself of the validity of chavismo, the left-wing political ideology established under former President Hugo Chavez.
"This idea that sanctions are hemming demand, that they need to need to get around sanctions, this is chavismo drinking their own Kool Aid and believing their own propaganda."
Some people are more optimistic toward the petro and belive that this is great idea and could serve as a precursor to similar projects from other world leaders.
According to Mati Greenspan, senior market analyst at social trading firm eToro:
"It's an excellent idea to back the crypto with a hard commodity as the world is currently flooded with baseless money. Surprisingly, we've seen very little support for this initiative in the crypto community, most likely because it seems the Venezuelans themselves don't seem to have made up their minds just yet."
Countries hit with sanctions are not alone in considering the possibility of their own digital currency. Many around the world are mulling the idea of virtual currency. Sweden, for example, is looking into the possibility of a digital version of the Swedish crown, the "ekrona".
---
This article was first published in CNBC