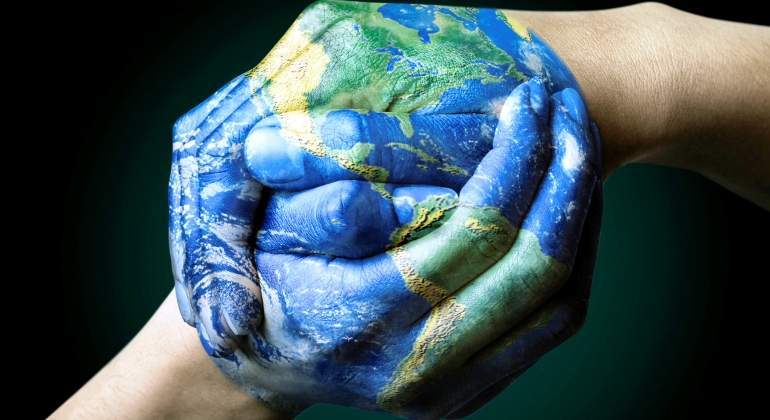 In a recent report published by the consulting firm McKinsey "A new map for strategic growth in banking", LATAM appears to be the place in the world where growth opportunities could be the highest for the banking industry.
To get to this conclusion, the report looked at the ratio of banking revenues as a share of GDP across global markets, to which was deducted banks' costs of risk.
As shown on the map below, the global banking penetration rate is no longer the highest in developed markets and countries like Argentina, Brazil, Peru, Colombia or Venezuela are reaching records high in terms of banking penetration. As an example, penetration in Brazil is higher than the United Kingdom.
[divider]GLOBAL BANKING PENETRATION[/divider]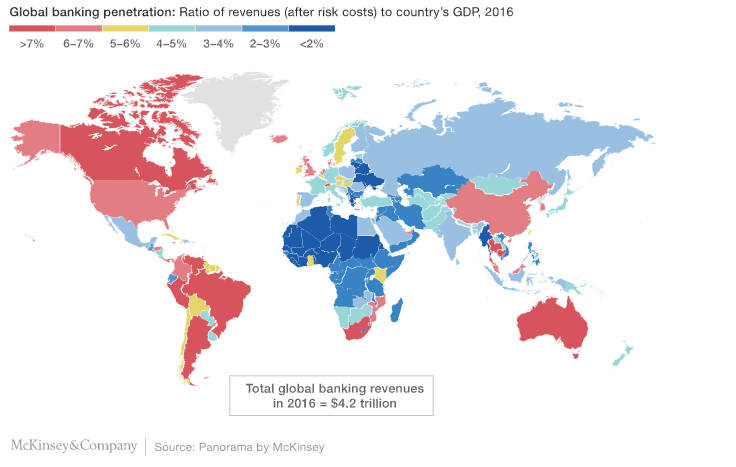 Among the 2.2 billion unbanked adults worldwide, LATAM is the third place in the world with the highest percentage of adults who do not use formal or semiformal financial services behind Sub-Saharan Africa and Middle East, with 65% of total adults being unserved.
[divider]UNBANKED ADULTS WORLDWIDE[/divider]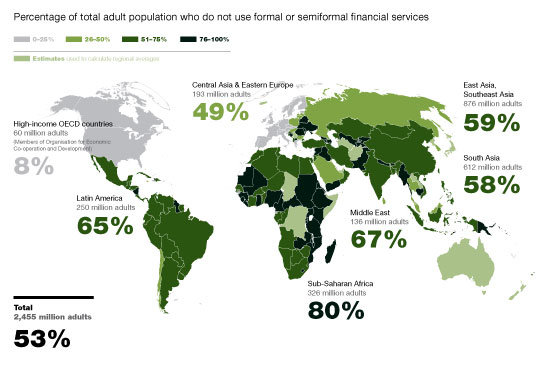 Sub-Saharan Africa also has huge potential for growth in banking but is facing bigger structural challenges, such as income inequality and political instability, that make it complicated for banks to have a short-term investment strategy. On the contrary, other emerging markets with high margins such as those in Latin America may be susceptible to abrupt turns in the credit cycle and attract foreign investors to better serve the financially excluded.
Among other challenges to the continued success of established business models, traditional banks are also facing increasing competition in those markets from new entrants, also know as fintech companies, with new and lower-cost models.
---